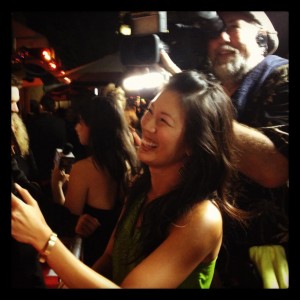 Growing up in Alhambra, California, Chi-Lan Lieu began her love affair with television and technology the day her father made them the first on the block to have a home karaoke machine. Being an early adopter inspired Chi-Lan to begin her career in television as a producer then tech reporter at TechTV from 2001-2004. Taking the intimidation out of tech had Chi-Lan host shows that included "I Want That! Tech Toys", "The Screen Savers", "Fresh Gear" and Spike.com's CES Special. But tech was just the gateway for this woman's love affair with television work…
Chi-Lan currently hosts a new HGTV series, "LIVING ABROAD" where she chronicles the experiences, culture shocks, and life lessons of American families living in foreign countries. When not discovering new cultures and foods, Chi-Lan prides herself on being a tech aficionado, motion gaming expert and all around ruckus rouser. She makes regular appearances on CBS's hit daytime show, THE TALK as the tech and lifestyle expert. When the Hollywood itch starts up, she produces, writes and hosts entertainment stories for K-ABC's ON THE RED CARPET, and webisodes/reviews and blogs for GameTrailers.com. Her other television credits include CW NOW (The CW), EXTRA (NBC), FACT OR FAKED: PARANORMAL FILES (SyFy), THE ROSE PARADE (HGTV), DESIGNED TO SELL (HGTV), THE BIG TEASE (Reelz Channel), MTV OVERDRIVE, YAHOO! GAMES and HOLLYWOOD 411 (TV Guide). In her spare time, Chi-Lan enjoys photography and hiking with her dogs.
Living Abroad – HGTV
Fact or Faked: Paranormal Files- SyFy
Designed To Sell: Atlanta – HGTV
On The Red Carpet – K-ABC
CW NOW – CW
GT Motion – Gametrailers.com
I Want That! Tech Toys – HGTV
The Big Tease – Reelz Channel
MTV Overdrive
Intel Retail Edge Industrials
The Making of Rose Parade 2008 – HGTV
CES Special – HGTV
RV 2008, 2009, 2010, 2011 – HGTV
RV Road Home – HGTV
Outdoor Living Expo Special – HGTV
Dailies – Reelz Channel
Yahoo! Videogames
MobiTV Fest – MobiFest
Universal Pictures Generics
TV Guide Channel News
Fresh Gear – TechTV
Big Time Rush – Co-Star, "Jessica"
BRUNO – EPK "Corinna"
'Forgetting Sarah Marshall' National TV ads – Co-Star "Laura"
Mind of Mencia with Carlos Mencia – "World's Only Unemployed Asian"
X-Play – G4 – Guest Star "O-Renshi-I"
Unscrewed with Martin Sargent – G4 – Various Recurring roles
Tech Elf Christmas – TechTV – Co-Star "Cheryl"
Dangerous Minds – Jerry Bruckheimer Films – "Pamela, Student"
Higher Learning – Columbia Pictures – "Elise, Student"
The Talk – CBS Lifestyle / Gadget Expert
The Ellen DeGeneres Show – NBC Gadget Expert
The View – ABC Gadget Expert
Rose Parade 2008, 2009, 2010 – HGTV Co-Host
The Screen Savers – G4 Co-Host
E! Entertainment's Contributor/Gadget Expert
'Countdown to the Red Carpet'
Skills and Languages
STUFF Magazine columnist.
Self-produced and wrote news magazine segments.
Improvisation.
Teleprompter reading.
Knowledgeable with gadgets and games.
Can speak fluent Hakka, conversational Mandarin and Cantonese.
Hobbies
Photography
Cooking
Yoga
Grandmothers
Travel
Ikebana flower arranging
Hiking
Reading
Writing
Arithmetic
Education and Training
Intensive Acting – Howard Fine
Scene Study – Sal Romeo
The Second City – Improv for Actors – David Razowsky
The Second City – Musical Improv – Michael Pollock
Commercial Acting – Stuart K. Robinson
Scene Study – Robin G. Brown
B.A. Scripps College, Cum Laude Graduate, Double Major: Media Studies and Studio Art
UC Berkeley Extension, Brand Management